The GLX Video Content Operations Platform empowers organizations of all types simplify, streamline, and coordinate to create, repurpose, and share video content with less effort and an increased pace of delivery.
All-In-One Story Content Management
Media Library
Unleash the power of storytelling with GLX Media Library - your comprehensive solution for content management. With AI-enhanced features, intuitive organization, and robust review capabilities, GLX Media Library transforms the way you manage and distribute your media assets...
All-In-One Story Content Management
Embrace the future of content management and let your stories resonate with your audience like never before.
The GLX Media Library is a powerful, AI-enhanced platform designed to streamline your story content. It's ideal for content creators, product and marketing teams, communications professionals, and anyone who needs to organize, manage, and distribute media assets. Its tools enable efficient story content organization, management, distribution, and content discovery.
Join the growing list of professionals transforming their content strategies with GLX Media Library. Harness the power of AI and improve your storytelling today!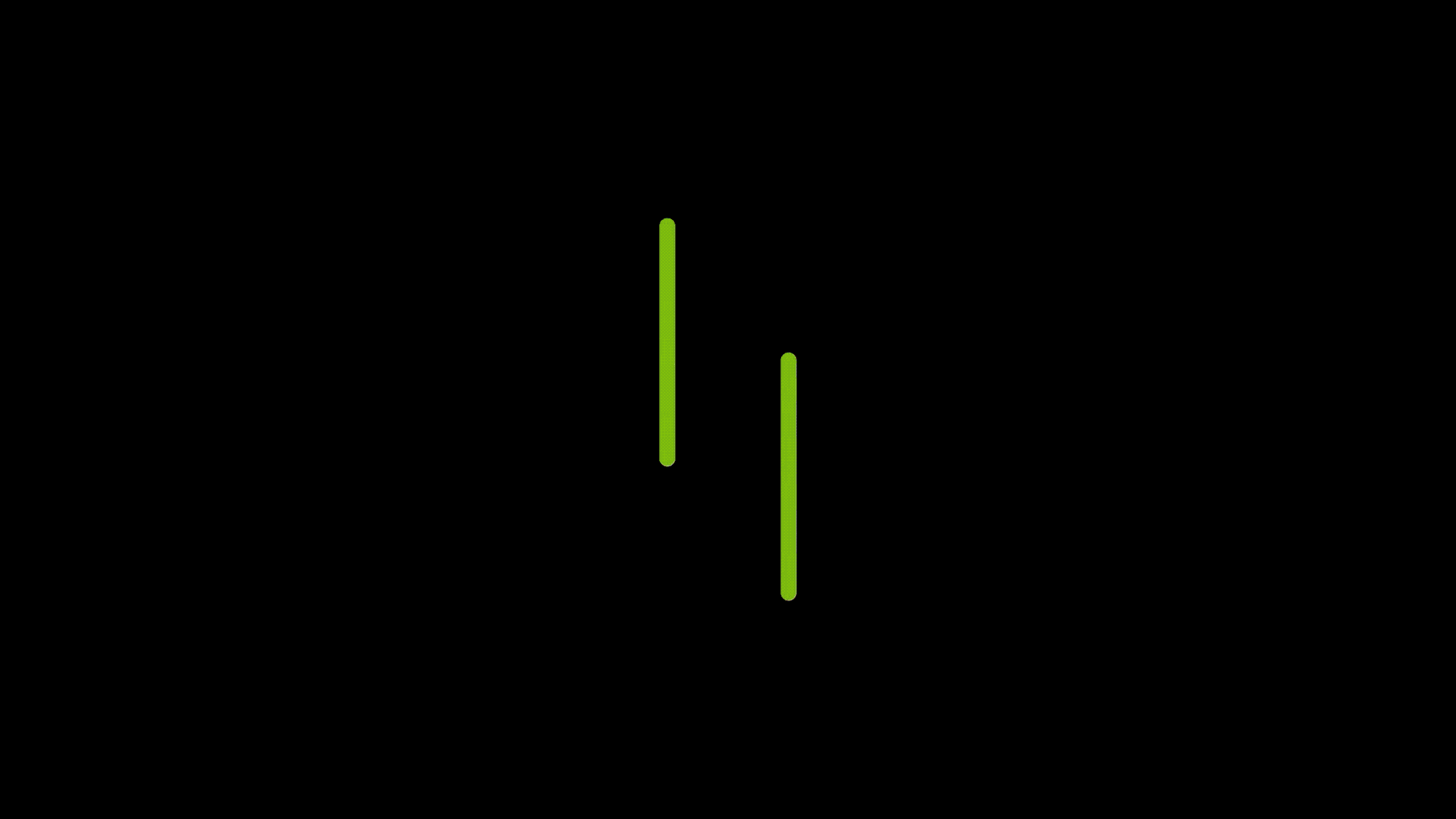 GLX Media Library offers a comprehensive suite of features to streamline the workflow of product managers, product marketing managers, and communications professionals:
Seamless Video Ingestion: The GLX Media Library allows you to easily import videos, providing a smooth, hassle-free experience.
Collaboration and Sharing: The library facilitates seamless content sharing and collaboration across teams and departments. You can grant access to team members, enable public sharing to make your content accessible to your target audiences, or have contributors upload their content for sharing with others.
Content Comprehension: With AI-driven capabilities, the platform comprehends the content within and around each file, identifying key themes and topics.
Intelligent Organization: Leveraging its understanding of content and your specified tags, the platform organizes your assets in a logical, easily navigable structure.
Efficient Content Management: It streamlines content organization, storage, and retrieval, making it easy for everyone to find the resources they need.
AI-enhanced Functionality: With AI-enabled search, it offers smart content discovery using the information within and outside of story content.
Releasing and Distributing the Final Product: Once your content is ready for release, the GLX Media Library enables you to populate external systems for audience consumption by sourcing content from it.
These features enable many to efficiently manage and utilize their video content, enhancing their product launch, marketing, and communication efforts. They harness the power of AI to gain deeper insights into their content, foster better organization, and ultimately deliver more impactful, personalized experiences to their audience.
Whether you're a product manager, product marketing manager, sales professional, or communications expert, the GLX Media Library is designed to transform your content management and distribution processes.
Key Benefits
Streamlined Content Management – Organize, store, and retrieve content with ease, increasing efficiency and productivity across your teams.
Seamless Collaboration – Share content effortlessly across departments, fostering greater teamwork and cohesiveness.
AI-Enhanced Capabilities – Leverage AI-powered search and content understanding for smarter content discovery and insights.
Intelligent Organization – Maintain an easily navigable content library that keeps your assets organized and accessible to all team members.
GLX Workspace offers an array of features designed to enhance collaboration, streamline workflows, and produce engaging and high-quality narratives. Here are the key features:
Asset Request: Request specific missing content from collaborators directly within the workspace.
Built-in Video Creation: Use the integrated Media Mix editing tool to repurpose clips, record videos, and add branding elements, video bumpers, image overlays, lower-thirds, and audio.
Team Collaboration: Assemble teams, post messages, and integrate with communication platforms like email, Microsoft Teams, and Slack for seamless collaboration.
Notification Management: Configure notifications to ensure all collaborators are updated with project progress and important updates.
Content Library Integration: Easily add content from the library to your workspace for use in your projects.
A GLX Workspace is a valuable tool for any organization focused on producing high-quality, engaging storytelling content. It simplifies the content creation process, promotes effective collaboration, and ensures efficient project management.
Enhanced Collaboration: Teams can work together efficiently with designated roles, notifications, message posting, and integration with other communication platforms.
Efficient Project Coordination: From planning to finalizing content, the workspace provides all the tools necessary for smooth project coordination and execution.
Simplified Content Creation: With built-in video creation capabilities, teams can easily repurpose existing content or create new, engaging narratives by clipping content or using Media Mix to create new storyboards.
Quality Controls: A workspace Screening Room facilitates reviews, feedback, and finalizing content, the workspace ensures high-quality storytelling content.
Streamlined Workflow: By centralizing all project-related tasks in one workspace, it saves time and reduces the complexity of managing various aspects of content creation.
Comprehensive Project Collaboration
Workspaces
Revolutionize your content creation process with GLX Workspace. Craft compelling narratives, foster cross-team collaboration, and manage your projects with unrivaled efficiency...
From planning to finalization, the GLX Workspace is your all-in-one platform for producing engaging, impactful content. Empower your team and let your stories shine.
A GLX Workspace is a comprehensive project collaboration environment designed to simplify and streamline the process of content creation and storytelling for an individual or a team of collaborator. Its purpose is to facilitate effective workflows and collaboration for story creation and repurposing projects.
The workspace allows easy creation and configuration, adding content from the library, assembling teams, requesting assets from collaborators, planning reviews, feedback, and designating content finalizers. A GLX Workspace facilitates the development of compelling narratives. Users can review content for repurposing, identify specific gaps to address, determine the short-form video to create, and request any missing content needed. The workspace comes equipped with built-in video creation using its Media Mix editing took for repurposing clips, recording videos, adding branding elements, video bumpers, image overlays, lower-thirds, and audio.
The GLX Workspace's standout feature is its notification and collaborative capabilities. It enables users to use Screening Rooms to curate and improve stories. Using the workspace you designate content finalizers, invite collaborators, post messages, configure notifications, request reviews, and integrate with communication platforms like email, Microsoft Teams, Slack, and Webex Messenger. This ensures seamless collaboration and efficient content creation.
Collaborative Video Reviews
Screening Room
Experience seamless content review and refinement with GLX Screening Room. Unleash the power of collaborative feedback, manage content versions effortlessly, and ensure your narratives meet the highest quality standards...
With GLX Screening Room, your content journey transitions smoothly from creation to perfection. Make your content the best it can be, ready for the world to see.
Waiting for approvals notoriously slows down any communications process. Screening Room eliminates this frustration by enabling diverse groups to efficiently collaborate to view, comment upon and approve content more quickly.
The GLX Screening Room is a built-in platform component that facilitates content review and refinement within a collaborative environment. It provides the central hub for teams to manage content versions, provide feedback, track changes, and streamline the story review process until content is ready for release.
Its purpose is to ensure the quality and effectiveness of your storytelling content, with its features aimed at identifying gaps and refining narratives within a collaborative environment.

Key features of the GLX Screening Room include:
Content Assessment: The Screening Room allows teams to conduct content assessments, identify areas for improvement, and collect insights that inform future projects. This helps organizations refine their content to engage their teams and target audiences more effectively.
Streamlined Reviews: The platform facilitates seamless collaboration through integrations with popular communication tools like email, Microsoft Teams, and Slack. Its comprehensive review capabilities include commenting, version management, reminders, and overseeing the entire review process.
Collaborative Content Creation and Curation: GLX provides built-in editing tools for refining content. The Screening Room supports collaborative reviews, enabling teams to continuously assess and curate content, identify improvements, and support upcoming product releases.
Content Release: Once the content has been reviewed and refined, the Screening Room allows you to release it easily. You can copy it to the Media Library and use built-in publication capabilities for distribution.
The benefits of the GLX Screening Room are many:
Improved Content Quality: Through continuous assessment and review, organizations can refine their content to effectively engage team members and target audiences.
Enhanced Communication and Collaboration: With seamless integration with popular communication tools, the platform ensures teams are aligned and informed throughout the review process.
Efficient Content Creation and Curation: Built-in editing tools and collaborative review features allow teams to create diverse, high-quality content that caters to the unique needs of their target audience.
Streamlined Content Release: Once the content is finalized, the Screening Room facilitates easy content release and distribution.
The GLX Screening Room is an invaluable tool for organizations looking to improve their content quality, streamline their review processes, and foster a collaborative work environment. By using the GLX Screening Room organizations can ensure their storytelling content meets the highest quality standards, ultimately driving product adoption and success.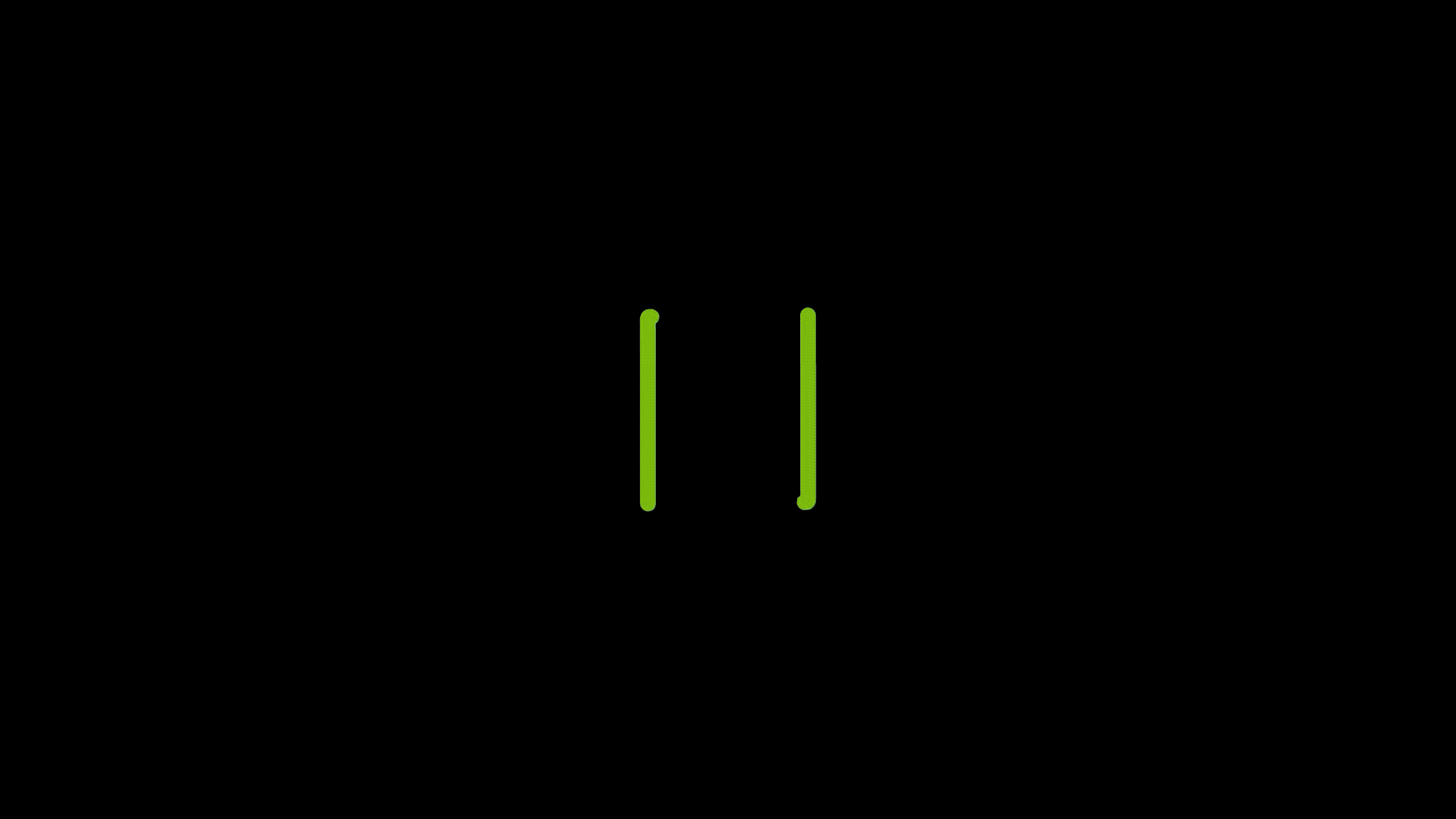 Unleash your creativity with built-in features like clip repurposing, video recording, and enhancements using bumper videos, overlay images, lower-thirds, and audio.
Video Repurposing: Users can extract clips from existing videos to be reused and incorporated into new narratives.
Short-form Video Creation: Create impactful short-form videos from long-form content, catering to the preferences of today's audiences.
Video Recording: Record new videos directly within the platform, providing a seamless content creation experience.
Content Enhancement: Add professional elements to your videos like bumper videos, overlay images, lower-thirds, and audio to make your content more engaging and visually appealing.
AI Integration: Leverage AI to extract spoken words, identify speakers, detect topics, and more from your video and audio assets. This enables automatic annotations, categorizations, tagging, and improved content discovery.
Collaborative Tools: GLX Media Mix is integrated with GLX Screening Room, enabling teams to review and refine content collaboratively.
Use Media Mix for content optimization, repurposing, and personalization. By enabling reuse and repurposing of content, it saves time and reduces costs, and helps you find and deliver personalized content to those that need it within and outside your organization.
Uncover the hidden gems in your long-form videos, transform them into engaging short-form content, and captivate your audience with stories that matter. With features like clip repurposing, built-in recording, and branding enhancements, Media Mix equips you to produce high-quality content efficiently.
Seamless production of powerful vignettes. Curate relevant clips and to maximize reach and impact. Extend the reach of your content and maximize the effectiveness of your marketing, sales, and communication efforts through strategic content distribution.
Repurpose and personalize long-form video content. Reuse, repurpose, and target content delivery to save time, resources, cost, and ensure your message reaches the right audience.
Collaborate seamlessly and polish your content to perfection with integrated Screening Room capabilities. GLX Media Mix and Screening Room streamline content creation, curation, and distribution for use cases such as product launch communications, internal communications, product marketing, and organizational storytelling.
Harness the power of AI with GLX to enhance your content creation process. From extracting valuable information from your videos to generating new stories, our AI capabilities take the heavy lifting off your shoulders. Plus, enjoy accessibility features like automated transcription, captioning, and translation services to make your content universally accessible.
Content Creation and Repurposing
Media Mix
Empower your storytelling with GLX Media Mix, a comprehensive tool for video creation, authoring, and repurposing. Extract key moments from long-form content, create engaging short-form videos, and enhance with professional branding elements...
Do More, Deliver More
Harness the power of AI for content discovery, generation, and universal accessibility. Collaborate seamlessly, distribute efficiently, and watch your narratives resonate. GLX Media Mix – your all-in-one solution for impactful content creation.
Discover the power of GLX Media Mix, an all-in-one video creation and editing solution. Effortlessly repurpose, clip, and brand your content to develop captivating short-form videos that resonate with your audience.
Curate and Distribute your Narratives
Publishing
Elevate your content game with GLX Publishing! Create, curate, and distribute your narratives with ease, reaching your audience like never before.
GLX Publishing is a comprehensive platform service designed to streamline your narrative dissemination and distribution process. Media Mix's features help you with repurposing clips, recording videos, adding branding elements, and more, GLX simplifies the content creation journey. Once your masterpiece is ready, use GLX's robust publishing capabilities to share it with your target audience.
GLX Publishing simplifies the process of sharing compelling narratives. It provides a platform for creating playlists and publishing them to a channel, ensuring your narratives reach and resonate with your target audience. With built-in publication capabilities, create media pages and playlists, and distribute content through media channels for audience consumption.
GLX Publishing includes the workflows and services such as media pages and channels offering various layout options for content experiences, SEO, categorization, lead generation forms, and social sharing.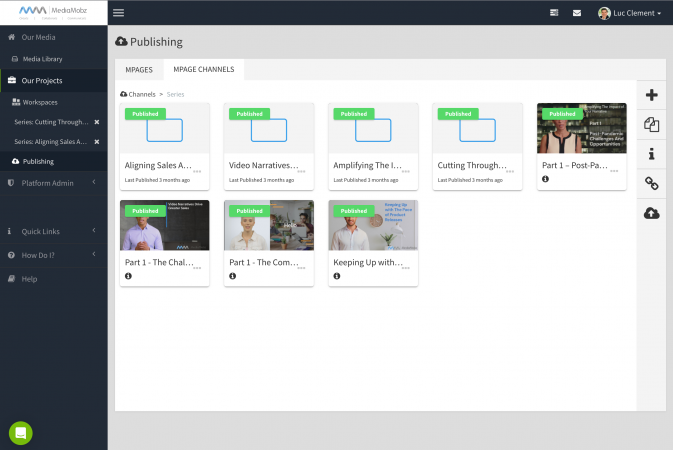 Media Pages & Playlists: Create and publish media pages and playlists that showcase your curated content.
Content Publishing: Publish your narratives to a channel, reaching a wider audience.
Narrative Sharing: Use GLX's built-in tools to share your library content effectively.
Channel Showcasing: Leverage GLX's Publishing app to showcase your narratives through media pages and playlists.
View Tracking and Insights: Use built-in analytics, and insights to get insights on the consumption of your content.
GLX Publishing offers an effective way to share narratives, optimize your content sharing strategy, and achieve maximum impact with your audience. Whether you're sharing internally or externally, GLX Publishing ensures your content is accessible, engaging, and impactful.
Simplified Workflow: From video creation to distribution, GLX Publishing provides a streamlined process.
Audience Engagement: Carefully curated narratives ensure maximum audience engagement.
Content Organization: Playlists offer an organized viewing experience, enhancing audience consumption and engagement.
Reach: Publishing your content to a channel ensures wider audience reach and greater impact.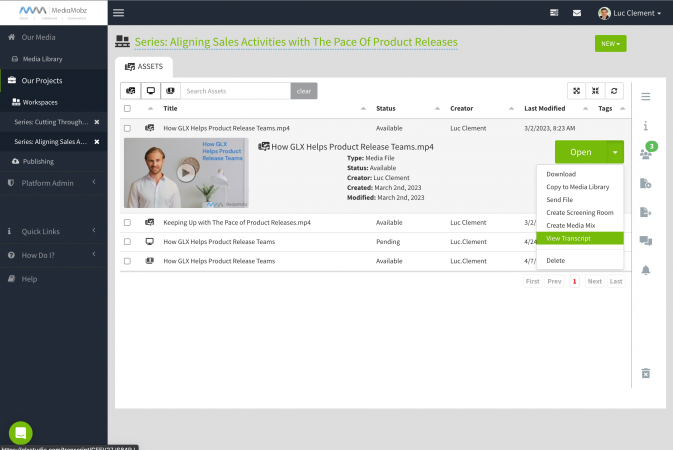 AI-Powered Processing: Unearth hidden gems in your video and audio assets.
Efficient Content Management: Organize and manage your story library with ease.
Content Cataloging: Stage, organize, and manage your content effortlessly with GLX's Media Library.
Generative AI: Create scripts and tailor content to match your audience's preferences.
AI-Driven Transcription and Captioning: Make your content universally accessible with automatic captions, subtitles, and translated content.
Simplicity: AI reduces the effort required for cataloging and enhances content searchability.
Discoverability: Automated annotations, categorizations, and tagging drive content discovery.
Customization: Create personalized content that boosts engagement and effectiveness.
Accessibility: Comply with accessibility standards with AI-generated captions and translations.
Scalability: GLX is designed to accommodate growing organizations, making it a future-proof solution.
Scale with AI
GLX & AI
Unlock your creative powers with GLX and AI! Discover hidden gems in your content, generate engaging narratives, and ensure universal accessibility. It's time to simplify, streamline, and scale your content game!
AI Makes It Easy
GLX harnesses the prowess of AI to transform your content creation journey. By extracting key information from spoken words, identifying speakers, and discerning topics, GLX provides a streamlined experience, making your content more discoverable and accessible. AI not only simplifies the process but also enhances it by generating new, personalized stories that resonate with your audience.
Generative AI That Extends the Voice of Everyone
AI assists in generating new stories and personalized content. Generative AI can create scripts from existing video and audio assets and tailor these to your target audience's voice and interests, resulting in customized video and audio content that resonates with them. This enables organizations to adapt their narratives for specific groups or individuals, boosting engagement and overall effectiveness.
Whether you're a small business or a large enterprise, GLX's AI-augmented features are ready to cater to your unique content needs. With GLX, elevate your storytelling and experience the benefits of a platform designed for efficiency, collaboration, and sharing.