Your collaborative content creation processes can be integrated with Slack. Integration with Slack means that MediaMobz notifications used to optimize collaboration on your projects can also be connected to your Slack Channels.
This means that your Slack collaborative workgroups can instantly receive any and all of the notifications generated by our Smart Workspaces. You can now work faster, work smarter, and work more effectively to manage your video projects to completion.
For example, if your video producer is in your project's Slack Channel, the producer will immediately be notified of comments your team makes on draft of the video, and be able to respond with questions and comments within Slack
These are the email notifications our platform delivers that can be integrated to your Slack Channels:
New messages posted
New files added
New screening rooms
Due date changes for screening room comments
Comments in screening rooms
Replies to comments in screening rooms
Screening room comments are finalized
Here are examples…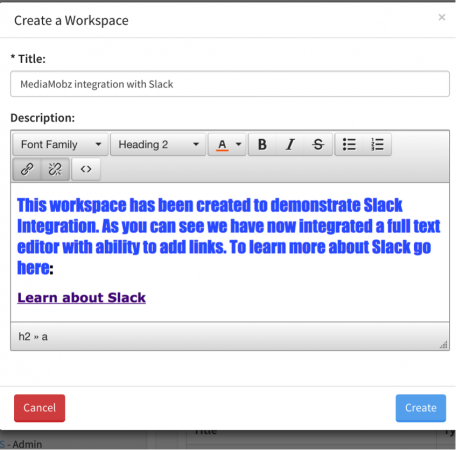 When you create a Smart Workspace on our platform, you are provided with the following notification options: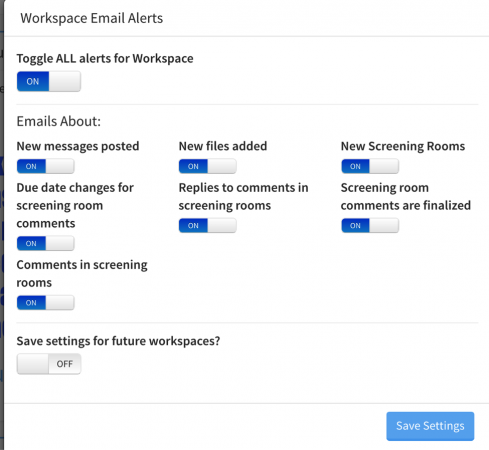 You have options. You can get email notifications or based on Workspace settings you can also get Slack notifications.
After you have created the workspace, click on Edit Settings: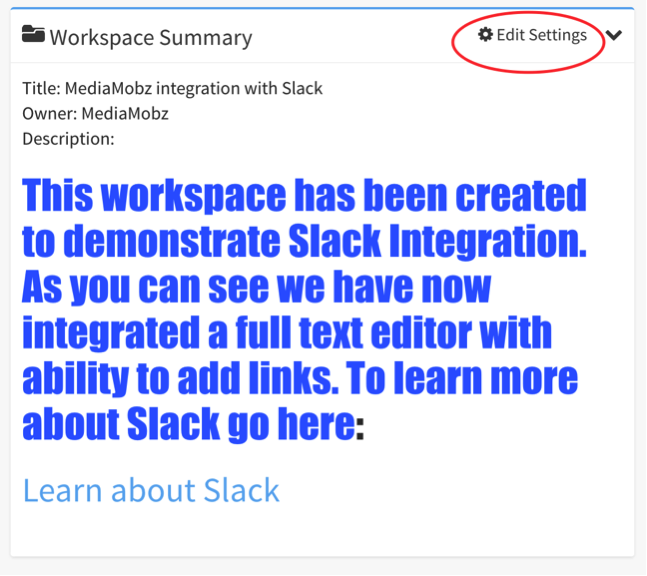 Then click on Notifications: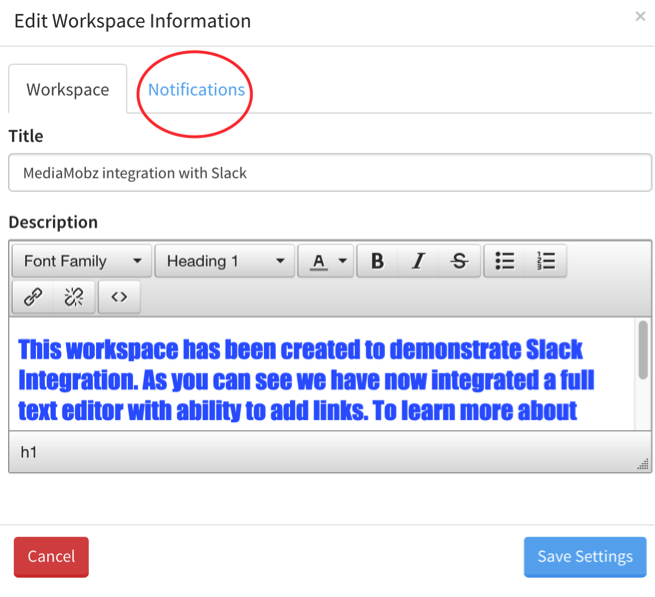 You will then see the option to integrate this Workspace with your Slack account: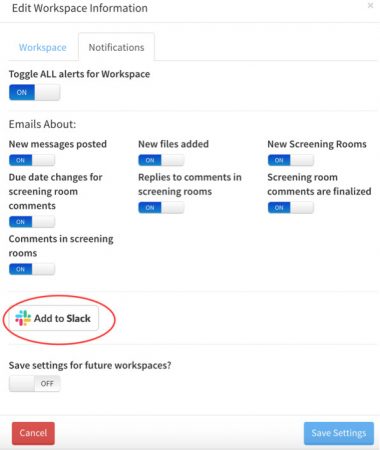 Click on "Add to Slack"  Where you see "MediaMobz" you will see your Company Name instead.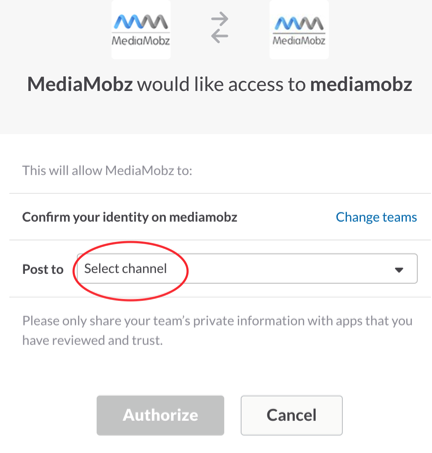 As you already do with slack you can choose one of your existing channels, or first go to Slack and create a new Channel: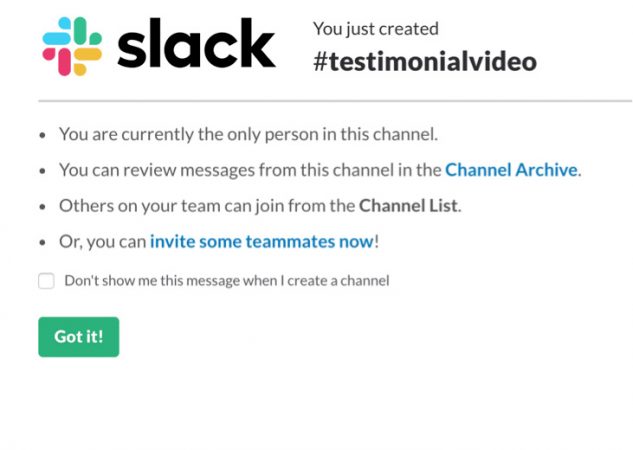 You choose which Slack Channel you would like to use to receive notifications from.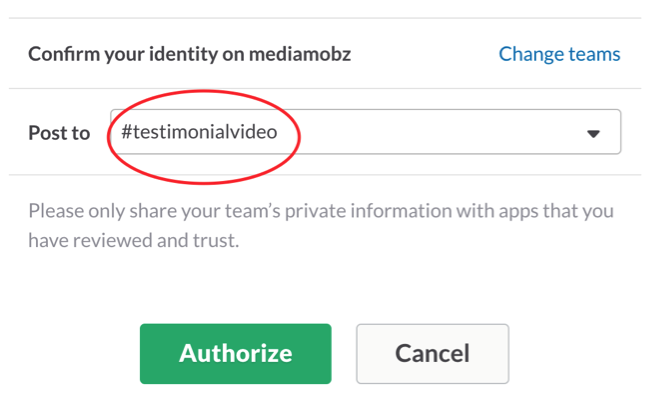 Your workspace is now connected to your Slack Channel. And now activity on your workspace, as determined by your Workspace Notifications Preferences, will appear in your Slack Channel. As before, since each team member can choose which platform notifications they want to receive via email – Slack will mirror this and provide these same notifications.
Let's look at a few Workspace/Slack messages:
Here we have uploaded a file: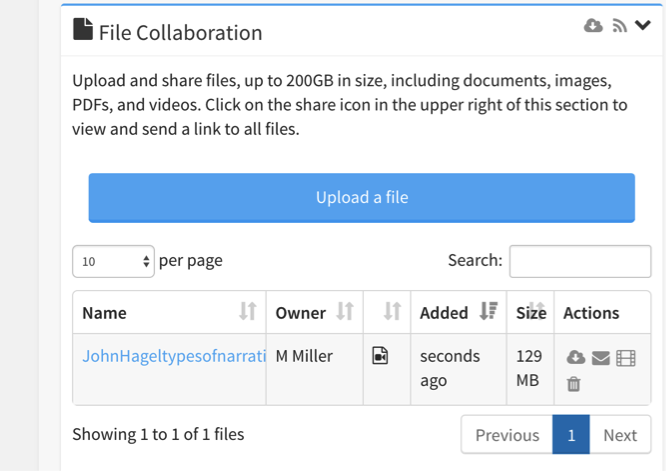 And here is the corresponding Slack Notification: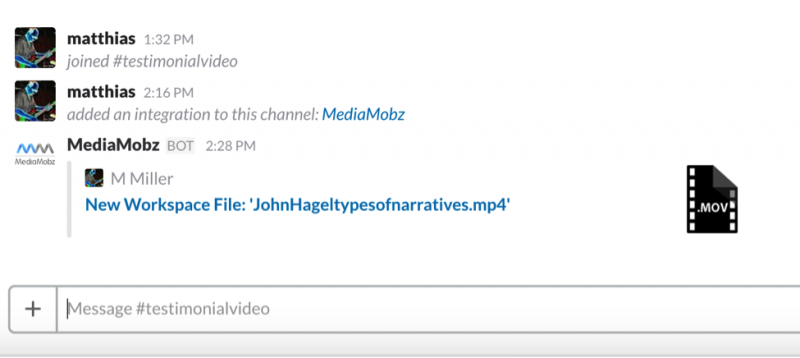 Note that anyone in this Slack group can click on the .MOV icon and download the video….
Here we have taken that video and created a screening room: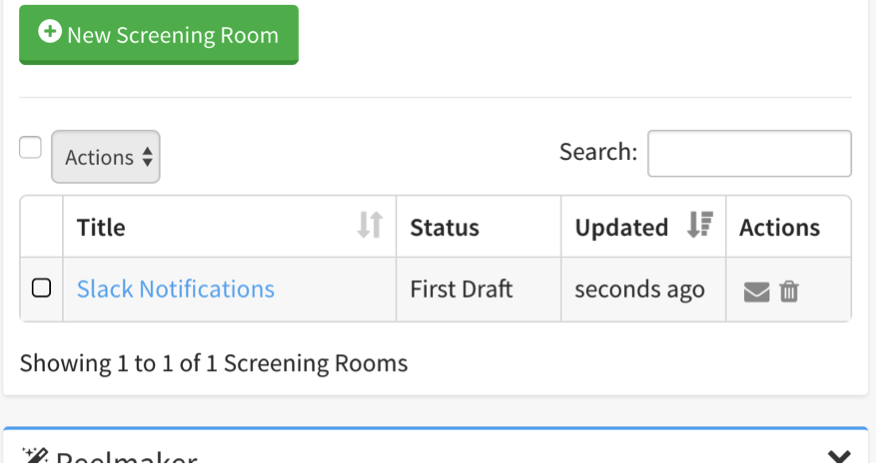 Here is the corresponding Slack notification: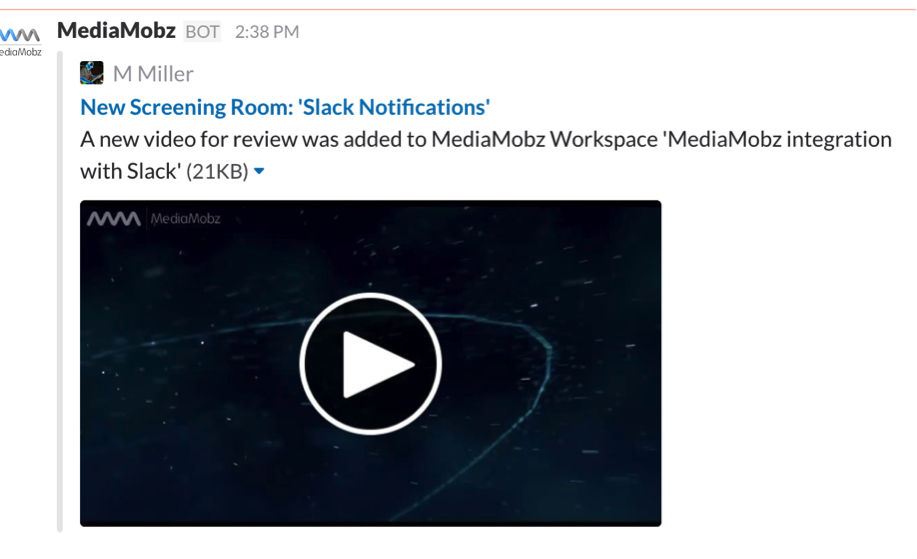 Let's keep going….
Here we have made a comment/select in this screening room: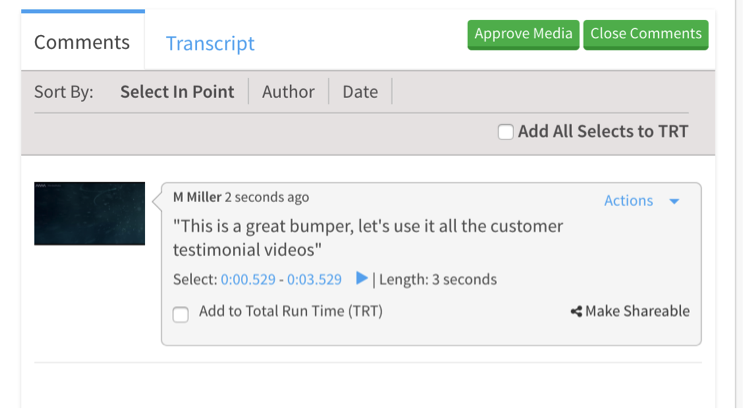 Corresponding Slack Notification:

Let's close the commenting for this round of video review: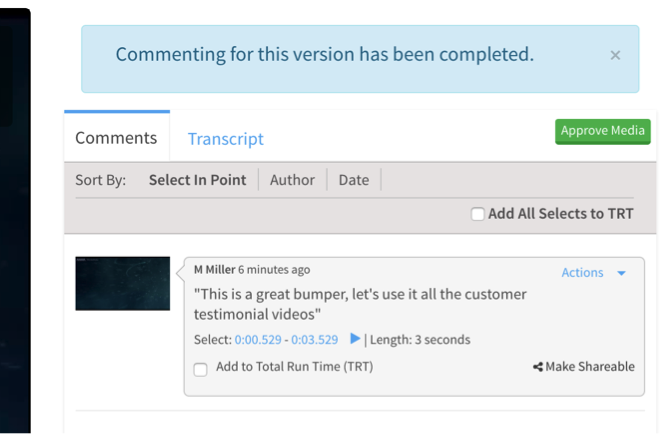 Let's assume you have decided to approve this media so the producer can release the completed video, named "Slack Notifications" to you for download: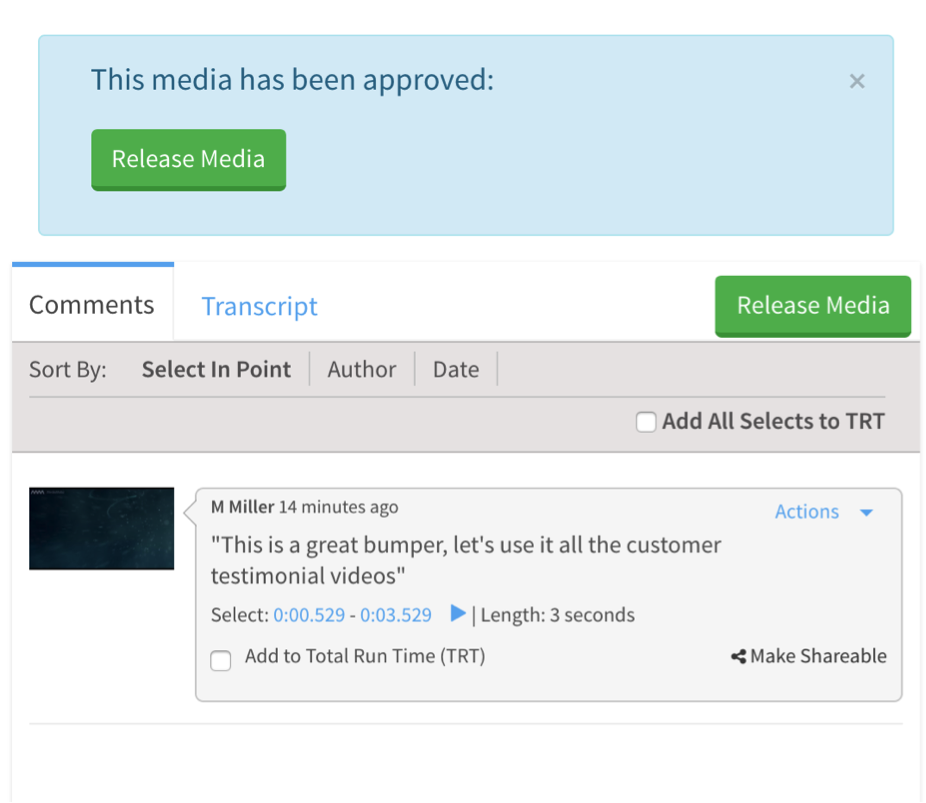 The producer receives this message from our platform and in turn hits "Release Media"
Which is then confirmed by Slack:

If you click on the play icon, it will take you to the screening room so you can watch the final video and download it.
At any time in this process you can change your Slack Channel that receives these messages, and you can also disconnect the Slack Channel from your MediaMobz Workspace: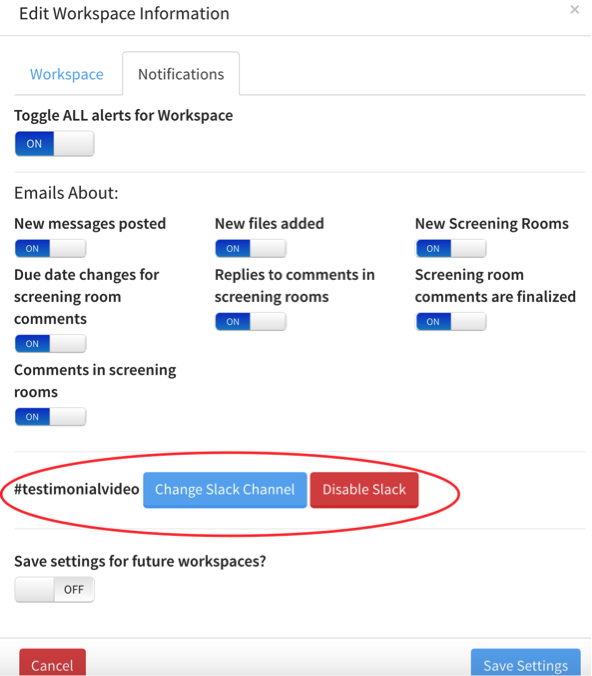 In conclusion, you can receive email notifications. Slack mirrors these notifications so that you or a Slack team can collaborate with MediaMobz to create your content. Each collaborator in the workspace can tailor platform notifications and choose what Slack Channel to work on.
You can choose to receive Slack notifications on a channel that includes co-workers and clients who are not listed as collaborators, so that they get the benefit of your project's progress without being members of your Platform Workspace. Your associate may be receiving notifications on a Slack Channel she created to work directly with the producer.
We integrated with Slack because one of or client's asked us to!
What would you like us to do to make our platform more productive for you?