Today communications professionals, marketers, and employee, product and community leaders lack the means, automation, and workflows to easily assemble, repurpose, collaborate and deliver video-based communications and collateral in a way that is simple and accessible to them.
Most are subjected to a myriad of unintegrated tools, inefficient exchanges of huge files, and awkward means to share final work products, let alone all of the intermediate versions needed throughout the process. This process is ad hoc, cumbersome, slow, and definitively not repeatable. The lack of a platform to bring content and collaborators together is an impediment limiting your output and ability to deliver rich media quickly. … So is a lack of a media library for your and your team's video collateral, and so is an inability to easily get feedback from stakeholders. Collectively these limit the rate at which you can deliver video to support your outreach and nurture campaigns. And, too often many of the deliverables turn out to be one-and-done.
It's not surprising that most give up on the notion of systematically managing and streamlining the processes and workflows needed to effectively leverage rich media for digital engagement. It's simply too hard. So too often some offload the creative process and video content creation process to external agencies, but that also creates bottlenecks and cost barriers further limiting your ability to deliver your messages quickly.
GLX Video Content Operations help product and marketing managers, event and field marketing professionals and various other contributors, creative consultants and social influencers by providing them and their collaborators with a Cloud-based platform, automation and workflows, and video repurposing, composition, editing and screening capabilities that content professionals can use to coordinate the creation, repurposing, sharing and disseminate of video-based communications with less effort and at an increased pace of delivery, simplicity and in a streamlined manner.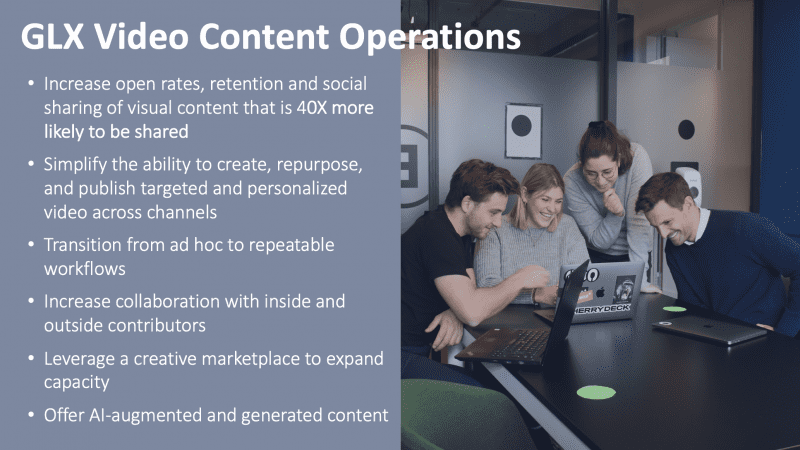 GLX provides communications professionals, marketers, and product and community leaders with the ability to deliver video content to support product releases, helps event and field marketing campaigns produce and deliver targeted video communication, and helps inform communities of interest with personalized and targeted videos. GLX Video Operations Operations automates content strategies that drive digital engagement to increase employee and customer retention, reduce churn, and deliver meaningful customer journeys for individuals, teams, and enterprises.
Take the time to learn for yourself by signing up for our non-time limited trial by clicking the Try For Free button on our landing page. Want to learn more about GLX? Have a look at the GLX Video Content Operations document.